Press Release
NYCEDC and Cornell Tech Advance "New" New York Initiative to Establish New York City as the Global Hub for Urban Innovation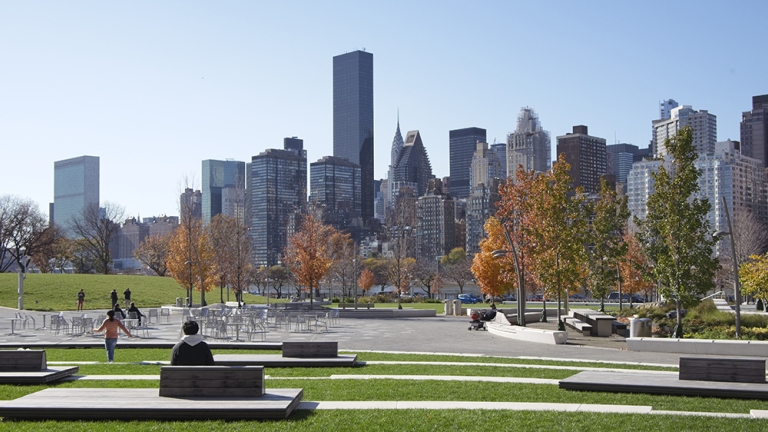 "Pilot: New York City" Includes Recommendations to Boost Innovation Opportunities and Technology Piloting Across NYC
Roadmap Builds on a Long-standing Collaboration between NYCEDC and Cornell Tech and Proposes Measures Including Technology Procurement Modernization
NEW YORK, NY—Today, New York City Economic Development Corporation (NYCEDC) and Cornell Tech announced the launch of Pilot: New York City to advance New York City as a global hub for urban innovation. The new initiative, a key proposal within the "New" New York Panel Making New York Work for Everyone Action Plan, aims to streamline processes, collaborate with the private sector, nonprofits, and academia, and tap into the creativity of New Yorkers, to enable the city to become one of the world's most important places to pilot and scale urban innovation ranging from curbside electric vehicle charging to building decarbonization technology.
Pilot: New York City will seek to streamline coordination and collaboration across public, private, academic and nonprofit partners to accelerate urban innovation. The initiative creates a first-of-its-kind roadmap that will set New York City on its course to becoming the leading ecosystem for urban tech companies to build, grow and scale their businesses and strengthen the city's capacity to address both climate change and economic recovery, while growing and diversifying New York's economy.
"As we made clear in the "New" New York report, to grow the economy, promote equity, create jobs, and face the challenges of climate change, New York City must streamline coordination and collaboration across the public, private, academic and nonprofit sectors," said Deputy Mayor for Economic and Workforce Development Maria Torres-Springer. The Pilot New York City report will help us achieve this goal, make it easier for business and government to collaborate and, in so doing, help unlock the full potential of the most robust tech ecosystem in the world."
"New York City is the second largest startup ecosystem in the world," said NYCEDC President & CEO Andrew Kimball. "Pilot: New York City furthers our partnership with Cornell Tech to accelerate urban innovation to make it easier entrepreneurs and companies to do business with the City."
"New York City is a global urban innovation hub where the brightest minds in tech come to make their mark on our city and the world," said New York City Chief Technology Officer Matthew Fraser. "Pilot:NYC charts an exciting path forward for the city's tech economy, with calls for programs like OTI's Smart City Testbed that connect the public and private sector and capitalize on our city's one-of-a-kind environment and opportunities. We look forward to working with EDC and Cornell Tech to support the development and implementation of cutting-edge technologies that benefit the lives of New Yorkers."
"The 'New' New York action plan is exactly what New York City needs to propel its tech industry forward," said the Mayor's Office of Contract Services Director Lisa Flores. "We must prioritize improving our City's technology infrastructure to expand government relations with the companies responsible for transforming the daily lives of New Yorkers. The plan's Initiative 31 does just that by proposing Challenge Based Procurement, a type of procurement reform that aims to make New York City a more innovative and technology-friendly City. I congratulate EDC and Cornell Tech on the launch of the pilot program and am honored to continue to be a procurement reform partner."
"New York has long been the hub of urban innovation, dating back to the 1880s, when Edison electrified a one-mile radius off Pearl Street. We are researching how to encourage more Edison-style "bottom-up" innovation, but also how we can spur "top down" innovation through government programs. For startups, New York is a market-maker—and the City can use its procurement power to drive the development of new technology," said the Lead Author of the Pilot:NYC Report at Jacobs Urban Tech Hub Cara Eckholm.
"As cities and technology continue to converge, cities need new tools, product and policies to adapt to an increasingly data-driven world" said Michael Samuelian, Founding Director of the Jacobs Urban Tech Hub. "Pilot: New York City is an important example of how novel partnerships between academia and local governments can help power the innovation of New York's incredible tech ecosystem, and help make the City the global center of urban innovation.
"With the launch of the Pilot: New York City initiative, a dynamic collaboration between NYCEDC and Cornell Tech, we are ushering in a new era of urban innovation and propelling New York to the forefront of global ingenuity and progress. This roadmap charts a course towards fortifying our city's resilience, enabling us to confront the challenges of climate change, drive economic recovery, and foster a vibrant, diversified economy," said Council Member Julie Menin.
"As Chair of the New York City Council's Committee on Economic Development, it has been a priority of mine and my colleagues in Government to make our City a global hub of urban innovation. I am excited to see that Initiative 31 is taking form in collaboration with Cornell Tech's Jacobs Urban Tech Hub, the Trust for Governors Island, Brooklyn Navy Yard, and over 120 stakeholders. I look forward to supporting this initiative so that New York's new urban innovation workforce is in direct benefit for everyone - from our workers to our planet," said Council Member Amanda Farías.
Together with Cornell Tech's Jacobs Urban Tech Hub, NYCEDC undertook a nine-month research collaboration to create Pilot: New York City. Research included interviews with over 120 stakeholders, including government agencies, tech companies, accelerators and incubators, academics, and financiers. New York City's experience was then compared with best practices in other cities.
As a result, three overall themes lay the foundation for implementing Pilot: New York City:
First, the City should bolster its own innovation capacity through supporting innovation personnel at agencies and initiating more direct collaboration with local universities, to ensure that promising pilots transition to procurement orders and policy changes.
Second, the City should pursue procurement modernization by codifying a "challenge-based" procurement method, allowing agencies to define the problem they are trying to solve and test different technology solutions in the real world, on the path to making a final purchase decision.
Third, the City should enhance its support infrastructure for urban innovation startups through convening a pilot network—a group of accelerators and dedicated pilot sites—that together offer a streamlined point-of-entry for startups launching and growing in New York City.
An Advisory Group made up of industry-leading experts, venture funds, accelerators, pilot locations, and startups, also shared their unique insight and feedback on the creation of Pilot: New York City. Members include:
Lindsay Greene, Brooklyn Navy Yard
Kate Frucher, The Clean Fight
Matt Harrigan, Company Ventures
Regina Myer, Downtown Brooklyn Partnership
Elizabeth Lusskin, Empire State Development
William Floyd, Google
Shaun Stewart, Newlab
Dan Doctoroff, Co-Chair, "New" New York Panel
Laura Fox, Streetlife Venture
Julie Samuels, Tech:NYC
Clare Newman, Trust for Governors Island
"The Adams Administration is making New York City the best place for tech-enabled startups and other innovators to work with government to develop state-of-the-art solutions to urban challenges," said "New" New York Executive Director B.J. Jones. "Pilot: NYC charts a future-focused course to advance ideas to implementation and make our city more sustainable and livable in the process.
"We are thrilled to be part of the groundbreaking effort to propel the tech and urban innovation ecosystem forward," said Empire State Development President, CEO and Commissioner Hope Knight. "The Pilot: New York City initiative will be an important step forward for the city and state to address the challenges of climate change and foster continued economic growth. This initiative is a testament to the power of collaboration and will importantly be a blueprint we can use across the state."
"Pilot: NYC provides a roadmap to propel New York City to the forefront of urban innovation and create a vibrant ecosystem where cutting-edge technologies can be developed and scaled to address many of the city's most pressing challenges," said "New" New York Panel Co-Chair Dan Doctoroff. "By strengthening partnerships, removing administrative burdens, and promoting creativity, the city will foster new opportunities that a diverse ecosystem of entrepreneurs, startups, academic researchers, and other institutions are poised to address."
"One of New York's biggest advantages over other urban tech hubs is collaboration," said Julie Samuels, President & Executive Director of Tech:NYC. "Our definition of the local tech ecosystem includes leaders across business, academia, and the public sector. Tech is powering the fastest-growing segments of NYC's economy overall, and we're committed to pressing on this advantage to fortify New York's leadership in combating climate change, improving urban mobility, charting a path for safe and beneficial use of drones, and much more."
"The Pilot:NYC team has convened an extraordinary and diverse group of dedicated New York City innovators," said Lindsay Greene, President & CEO, Brooklyn Navy Yard Development Corporation. "Together, we have created an actionable plan to jointly accelerate catalytic programs for emerging entrepreneurs. The Brooklyn Navy Yard's climate tech piloting program, Yard Labs, has scaled in part due to Pilot:NYC's insights and recommendations. Over the last year, we have increased our piloting by four times, and have created new initiatives in partnership with Pilot:NYC accelerators and testbeds. We look forward to continuing this exciting collaboration and the further implementation of this milestone effort."
"Creating a more sustainable and equitable New York City presents tremendous opportunity for collaborative approaches to solution-making," said Clare Newman, President and CEO of the Trust for Governors Island. "On Governors Island, we're creating a platform to accelerate climate solutions that will help communities prepare for climate change, and Pilot: New York City will help propel our work and other city partners in fostering the necessary partnerships between government, academia, and the tech ecosystem to make innovative ideas a reality."
"New York City is already one of the world's best markets for climate tech startups, with a uniquely supportive policy environment, world-class capital partners, and, critically, climate-engaged customers capable of sparking broad market adoption given their size and scale," said Kate Frucher, Co-Founder and Managing Director, The Clean Fight. "Pilot: New York City helps the City get to the next level. By allowing potential customers to see solutions in action, startups will overcome a significant barrier and get one step closer to the types of large commercial agreements that can drive real market transformation."
The "New" New York Panel was launched in May 2022 by Governor Kathy Hochul and Mayor Eric Adams to examine the future of New York City and the region's economy. The panel created a set of 40 proposals intended to make New York City the best place to work and serve as a roadmap for the city's future.
Through this initiative, New York City will leverage piloting opportunities, including city owned assets and partnerships with piloting locations like the Brooklyn Navy Yard, Governors Island, other city-owned assets, and even core business districts to streamline processes and opportunities to pilot new innovations and solve for city challenges.
In the last decade, New York City has made substantial investments in the field of urban innovation, with specific emphasis on promoting the green economy. In 2022, over 600 companies formally applied to pilot their products in New York City through one of twelve city-run or city-affiliated programs, and over 50 pilots were deployed.
The City and NYCEDC have already begun championing entrepreneurship and innovation to advance piloting and tech to transition New York City towards a greener and sustainable future.
In September 2023, NYCEDC announced the activation of one of its flagship assets, the Brooklyn Army Terminal (BAT), in Sunset Park, for climate innovation pilot projects allowing companies to test and scale their technologies in live environments. The program will allow companies to pioneer groundbreaking technology and solve for city challenges around energy, transportation, and building decarbonization.
NYCEDC and Newlab, in collaboration with Con Edison and the Department of Transportation announced the five startups participating in the Resilient Energy Studio, a program designed to cultivate local energy storage capacity across New York City through entrepreneur-led pilot projects and collaboration with community organizations, energy experts, and leading industry stakeholders.
In 2023, itselectric, a Brooklyn-based electric vehicle curbside charging company, in partnership with Hyundai CRADLE and NYCEDC unveiled three electric vehicle (EV) curbside charging stations at the Brooklyn Army Terminal. The EV chargers will be the first compact, durable, and user-friendly charging posts featuring a fully detachable charging cord in North America - making it suitable and ideal for urban city use.
In 2021, NYCEDC selected JLL Technologies (JLLT), and UrbanSense, an MWBE multidisciplinary global consulting practice, as the City's key partners to launch the citywide Property Technology (Proptech) Piloting Program to benefit City-owned and managed assets. The Proptech Piloting Program will seek to find innovative proptech startups that are interested in working with NYCEDC, Department of Citywide Administrative Services (DCAS), and New York City Housing Authority (NYCHA) to improve quality of life for tenants and address building sustainability.
New York City has more tech-enabled startups than any city outside the Bay Area and offers more than 300 ecosystem support spaces—including incubators, accelerators, and coworking facilities—to help support entrepreneurs as they develop their big ideas and gain a foothold in the market.
About NYCEDC    
New York City Economic Development Corporation is a mission-driven, nonprofit organization that works for a vibrant, inclusive, and globally competitive economy for all New Yorkers. We take a comprehensive approach, through four main strategies: strengthen confidence in NYC as a great place to do business; grow innovative sectors with a focus on equity; build neighborhoods as places to live, learn, work, and play; and deliver sustainable infrastructure for communities and the city's future economy. To learn more about what we do, visit us on Facebook, Twitter, LinkedIn, and Instagram.
About Cornell Tech   
Cornell Tech is Cornell University's groundbreaking campus for technology research and education on Roosevelt Island in New York City. Our faculty, students and industry partners work together in an ultra-collaborative environment, pushing inquiry further and developing meaningful technologies for a digital society. Founded in partnership with the Technion-Israel Institute of Technology and the City of New York, Cornell Tech achieves global reach and local impact, extending Cornell University's long history of leading innovation in computer science and engineering.
About the Jacobs Urban Tech Hub   
The Jacobs Urban Tech Hub is an academic center that generates applied research, fosters an expanding tech ecosystem, and cultivates a new generation of urban technology talent. We bring a human-centered approach to research and education with the aim of building a better world through increased access and opportunity within the technology sector. The Hub bridges the gap between academic resources and public needs, organizing strategic partnerships between academia, industry, communities, and government — all towards furthering the positive impact of new technologies in cities.